In Chile it was AVACADO heaven, here in the land of ancient treasures, Perus mangos send me on a high!  From street vendors and in supermarkets, they are smiling at me from every angle.  I bought 4 huge, beautiful mangos for 2 soles–a total of approx. 50 cents (euro)~or 1.25 canadian $.  They are perfectly tasty, hitting the palate with a super  sweetness mingled with the perfect softness.  Delicious!!  It is not just the marvelous mangoes that haunt me daily, but also the availability of massive amounts and varieties of colorful & nutritious fruits.  Watermelons are the size of small children along with excellently sized peaches, grapes, strawberries, apricots and more moRe MORE!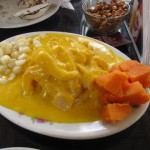 The typical peruvian breakfast is quite basic, bread with jam or eggs and coffee\tea.  Lunch time is a HUGE deal here, this is when the locals eat BIG!!  Starting with an appetizer, followed by a main and then dessert.  And all for a grand total of 12 soles–4.50$ canadian.  In most smaller typical restaurants,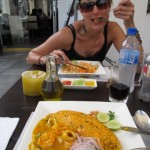 daily lunch specials are 4 or 5 soles .  Dinner is meant to be a smaller affair; this is one of the rules we have yet to obey 🙂
A delicious peruvian lunch staple is CERVICHE.  This is a tasty concoction of raw fish marinated in lime juice.  It appears that the fish is raw, although it is cooked by the lime juice through oxidation.  We had supreme cerviche in Lima–we will have to make a return!!  
We have had our fair share of "pollo"–chicken is fried and roasted, accompanied with none other than 'papas fritas' (french fries).  Between steak and chicken, Thommy wanted to jazz things up a bit.  He quickly ordered an item under the 'pollo' section.  The waitress nodded with agreement when Thommy asked if this was meat and if it was similar to chicken.  Soon my lovely, crispy chicken arrived and his
vicious-looking rodent arrived.  A splayed guinea pig was served.  It is very well known and loved in Peru and it is also a bit if a delicacy.  This little bugger has much less meat than a chicken, but still it costs a pretty penny compared to chicken.  The trajedy for me was the horrid appearance of this guinea pig´s jaw and fangs staring at me from Thommy´s plate.  They split the body in half and roast both sides; he is served lying on his belly with broken hips and a displaced lower mandible–so his head is perched nicely on the plate to stare you down!  As for my boyfriend….he is no 'spring chicken' in terms of CUY eating, so he graciously ate away, but he did confess to still being hungry by the end of the meal. If you love fish,  peruvian dishes are a must try!
From what I have heard, peruvian cuisine is popping up everywhere and has become quite a hit in North America.  I was amazed with all the flavours and colors.  It seems, as well, that there is an exciting mix of  japanese style cooking infusioned with peruvian –if anything, this is fun food to experiment with for a night out!
Kommentar hinterlassen