Going to Austria with almost 30 friends,a s we do it now for more then 10 years, is always a very special yearly ocassion. But this year it was even more special for me, because we just returned from Brazil and were away from home and friends for almost a year.
Our last night in Sao Paulo was very nice. Renata and Ali took us out to a final diner of Rodizio…we enjoyed it and with full bellies started the final packing of our backpacks in Southamerica.
We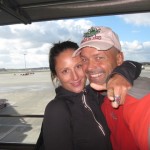 arrived in Hamburg after a long and smooth flight and had 36 hours to organize what was needed before we would leave to Austria and Whitney would continue from there to Canada. We had a couple of important appointments, had some paperwork to do, get my car started and buy groceries for Austria. We were glad, that our skipacks were still packed from last years skiing, so packing was mostly done. Because our apartment was empty and cold, we decided to stay the first night with my parents. A great decision and a very smooth landing. My mom cooked a great dinner and over some nice glasses of wine we sat together chatting.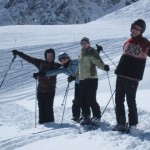 When we left Hamburg I found it relaxing to be on the road again. The idea of getting organized at home looked more like stress to me than something to enjoy. In Dinkelsbühl, 6 hours south of Hamburg, a friend booked a couple of rooms for a lots of our ski friends to break down the drive to Austria.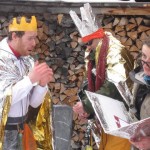 We arrived first, ordered a nice diner and yummie beer and I got really excited and nervous to meet our friends. When they arrived car after car it was a very nice welcome.
The next morning we finished the last 4 hours to Gargellen, my favorite little village in Austria. We went straight to our big house in the middle of nowhere, got organized and started a great 2 week holiday of skiing, chatting, partying and relaxing in the Sauna and Jacuzzi.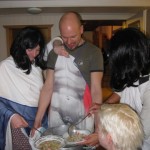 This 2 weeks are always first class and seriously hard to explain somebody who had never come with us.
Whitney stayed 3 skiing days before she left to Munich and flew to Canada for a 5 week family visit. I have to admit it was a very strange feeling to let her go and not jump into the next plane and follow. After more than 300 days beeing together almost 24/7 and experiencing and sharing all those moments together…
I was glad that I had a lot of "crazy" friends around me the next 10 days and that this ski trip is full of excitement and events that keep you busy all the time.
On the way home from Austria we had a long and crazy stag party for a good friend before I finally returned to Hamburg two days ago. Trying to get organized…hmmm. Maybe I just go through some pictues I took in the last months (-;
1 Reaktion zu "Skiing in Austria … the final step"
am 25 Mrz 2010 um 23:26

1

Margret

nach einem ungewohnt ruhigen Jahr ohne Schnecken- entwickelt es sich plötzlich zu einem organisatorischen Schnecken-Highlight:
Schneckenmann rauscht uns ins Haus- erledigt blitzschnell 10 Dinge-sind da Anzeichen von Nervösität wg der Hochzeit?-rauscht aus dem Haus-bis später-was haben wir das vermisst.

Willkommen zu Hause Thomas und Whitney
Kommentar hinterlassen