We were in Sao Paulo, it was travel day 307 and two days before our flight back to Germany and Austria, when I wrote an article about our "going home". Whitney and I talked a lot in those days about our feelings about the ending of our trip. We talked about things we have seen and done in the last year, we talked about what we gained, what we missed, some resolutions and on and on… We were looking forward to the exciting things we had planned for the upcoming weeks.
Well, back home, it is sometimes easy to loose some memories and to "forget" those thoughts and resolutions. It has always been my wish to finish the article that I had started writing earlier. Reading it now, I realize that I don´t want to change it anymore, I just want to put it online like it is.
It has been three months since we have returned from our round the world trip. Our time has been filled with exciting moments, friends and family from Canada visited and we had a beautiful time with our wedding in Denmark. We still did not find (or take) a lot of time to look back at our pictures, but I know the time will come and all those great memories will never be forgotten.
Here we go (written March 2010):
Let´s go home…gehen wir nach Hause.
It has been a year since we moved out of our apartment, spent four weeks couchsurfing at friends, finished what needed to be finished and finally took off for our trip around the world. This all seems so long ago, it is long ago. I remember how I was a bit unrelaxed in the last weeks before our departure. There had been some unpleasant business things I had to deal with and finalize in the last months in Hamburg. This combined with preparing the trip did not really leave a lot of space for pre-travel excitement. But once we reached the Hamburg airport and took off, it felt as if the real excitement would start immediately and in the following weeks, the stress was easily replaced with pleasant thoughts (-;
Whitney had the idea of calling our blog "Schnecken-on-the-run". She said that we are like "Schnecken" (snails), we are slowly moving around the world, carrying our little hut with all our belongings on our back. And then we remembered the picture we had taken of us two years ago on a canadian highway and found that it fits perfectly as the name of our website. We put it into the header of our website and with some help from a friend our blog was created.
In the last year we have visited 16 different countries, touched 4 continents and probably slept in around 140 different places. We used all sorts of transportation, took around 30 flights, spent days in busses, trains and cars. We walked many days through cities and villages and there were plenty of long hikes with our backpacks. We enjoyed the variety. Whether it was hiking or camping in the high mountains of Nepal, Argentina or Peru, sunbathing at the greatest beaches in Thailand, Malaysia or Brazil, fine dining in Lima, Valparaiso, Buenos Aires or Sao Paulo, street food all around the globe. Meeting and visiting old and new friends and finding new family. We were able to see their city, enjoy time together and simply find a home away from home for a couple of days. Filling up our Diving Log book with some of the best spots in the world, seeing infamous animals under and above the water on the coastline or in the jungel of Borneo. Being cultural and following the paths of ancient societies in Cambodia, Indonesia or Peru. Staying in hotels, hostels, on someones couch, a tent, a car or ultra romantic lodges…it all has its good side!
We started and finished our trip with highlights. The Anapurna Circuit in Nepal at the beginning, meeting my brazilian family at the end and inbetween were several special events and memories on route from Asia to Southamerica.
Today is day 307 of our tour around the world. Now the "Schnecken" will go back to Europe…but before we finally go home, we´ll go with lots of friends to a fun and traditional ski trip to Austria for 10 days. I think that it a very nice ending. From there, Whitney will move to Canada for a couple of weeks. When she returns to Hamburg, her family and some canadian friends will follow and join us for our next personal adventure…our wedding in Denmark at the end of april. Followed by some quality time with our canadian and german family and friends in and around Hamburg and a small tour through Germany. Then it is finally time to completely unpack our packs, settle (a bit) and enjoy our home.
Many times we were asked, "Why do you and did you do this trip"?. I wasn´t really sure what to answer because the answer seemed so obvious and it even became clearer with the end of our trip: Because we love it! We love to travel with all its different facets. Sure there are things that are annoying, sure we miss home, friends, family and our own kitchen and bed. But on the other side, you see great places, meet great cultures, learn a lot about others and yourself and most of all, get to know great people from all over the world. We got to know lots of travelers and locals and are happy that some of them became our friends, with whom we will stay in touch and visit in the future if possible. And besides this, it is something very special, to be able to complete such a trip together with your partner. What a great pre-wedding preparation for a life together (-;
Now we go home or "Gehen wir nach Hause", as my brazilian family says to each other (who by the way do not speak german) on late night out. There are very exciting things to come and I am looking forward to the evenings when Whitney and I will look at our pictures, the travel map and read some of our articles. It will bring back great memories of the time we spent together around the world and it will remind us of some things we gained together and some resolutions that we have conquered together..
.
Hasta luego!
***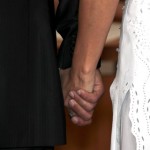 It is funny to read this now, three months later. We still have not really had the time to look at our pictures or to finish some videos. But this will come. Now it is time for us to get "TRAVEL" excited again: The Schnecken will slide on. We are about to leave for another trip, together with two close german friends (a couple who is as well newly married). We will explore Canadas West with its Rodeo and Rockies and the western coast of the USA will be our destination. Two more weeks and we will start packing our little huts (-; Let´s go, yee HA!
Kommentar hinterlassen