Attacking tigers, ferocious bambis, biting zebras and blood sucking red ants—We have survived! The jungle safari in Nepal's Royal Chitwan National Park was on order after our wonderful trek on the Annapurna Circuit.
After recovering we made a fast and whimsical decision to join up for a 3 day, 2 night jungle safari. With the binoculars in Thommy's pocket, mosquito repellent and our bow & arrow – we were off on the 5 hr trecherous, hot and sticky bus ride from Katmandu to the southwest of Nepal. Unlike many other catchy tours they are soliciting in KAT, ours was absolutely gourmet, as we slept IN the park on a small island. The island has 3 tigers, 15 rhinos, sloth bears, ample chirping birds and several beautiful varieties of deer. After the bus we were taken by a jeep to the river where our boat man awaited us. He used nothing but a long bamboo stick to paddle us to our little jungle haven. We were welcomed to serenity and peacefulness …accompanying us were super people-a couple from Spain and a sweet Belgium girl, Ruth. We later discovered that the Spanish man was a professional mountaineer, which quickly explained the massive open blisters all over his mouth. He just came off a 6 week summit of the 3rd highest mountain "Kangchenjunga". He is working for a spanish female climber who is competing to be the first female to summit all 14 highest peaks in a competition against 2 other female climbers-an italian and an austrian.
We were on a tight safari schedule-starting with a 4:30 elephant ride departure. 2 Hours of sitting in a big basket with Thommy and Ruth atop of the gentle and fantastic beast BUT NO WILDLIFE 2 B seen!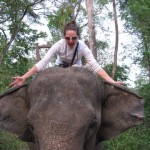 Nonetheless, the ride was super and the treetops and insects amuzed me -along with the required elephant ROAD APPLE dropping stops. As much as the MAHOOT (elephant driver-sitting on the elephants neck and using his feet behind the massive ears and constantly giving mini kicks as well as using a big metal spear resting and pointing into the elephants skull) absolutely controls the gigantic elephant-but when NATURE calls-she stops on the spot and releases!! They are huge grass bails bigger than my head, mixed with lifesize waterfalls you see on postcards.
Our evening dinners were tasty, finally Nepali cooks that knew how to use a proper dash of salt in their traditional DAL BHAT. This is literally a HANDS-ON-MEAL-rice and lentil soup with curried potatoes which need to be mix-mashed into a ball and with the clean, right hand-stuffed into your mouth. We opted for silverware and opened a can of whoop-ass on the entire buffet.
Day 2 started with a 5:30 knock on our cabana door, tea time and off for our 2nd elly ride!! Sitting high up on the 40 year old female elephant-all the wet branches slapped us in the face, as the previous nights storm was massive with sheets of rain pounding down and lightening flashing every second for at least 2 hours. Breakfast was followed by a jungle walk and a river cruise-and at this point-our WILDLIFE sightings were severly lacking and I must say-"NO, I was not TALKING the WHOLE time!"
We had a nice lunch and a small afternoon break before jonting down to the beach where 3 elephants awaited us as they waded in the river. We hopped on their backs -IT WAS A RODEO!! They sprayed us down and fully emerged into the water and then ROLLED side-to-side until we were bucked off. We were assisted back up by grabbing both big ears and stepping on the trunk to be air-lifted back to their backs. A totally AWESOME experience! We had subtly voiced (repeatedly) our saddness at not spotting the big rhinos, so the big boss said he would herd up the elephants for an evening ride. At this point 2 new groups had arrived so we had 4 elephants and headed out for extreme RHINO hunting. AND BANG-in the thicket of the trees-there were the beauties!! 2 one-horned Indian Rhinos with round mouse-like ears and dressed in sheets of grey armour. Our MAHOOT got serious and headed straight for the rhinos. Our elephant cleared the trail by breaking branches and thrusting trees with her powerful trunk. We soon were in the open field with all 4 elephants surrounding the rhinos. They were relatively calm and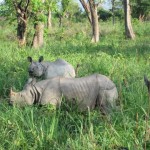 sniffing in our direction with curiosity, all the while bearing in mind that they can and do chase elephants. After a brilliant 20 min RHINO show, they bolted off with grunts in the air!!We were happy SAFARI kids! Later, over celebration drinks, a dark blob moved slowly across the river, yet another great RHINO invasion. With such excitment we once again stuffed ourselves with DAL BHAT and headed for the sac. 5:30 am and again came the classic knocking wake-up call, tea time and a bird watching tour! Bird watching is an aquired taste and Mary Poppins managed to ruin birds for me with her singing robin. I realized my binocular skills and patients were lacking for some honest bird observing-of course it was still nice to see some colorful and loud jungle birds. We had a nice last breakfast together and set off across the river to the jeep-5 hrs later and we were back in KAT-the wonderful JUNGLE events forever RHINO-printed on our minds!! And the best new discovery is that I now know what I can buy Thommy for his birthday….a rhino..of course! Hardy harrrr!!
3 Reaktionen zu "Welcome to the JunGLE BabY…You know where you are!!"
am 03 Jun 2009 um 09:13

1

Kirstin

Hey Whitney, wo ist DIE Hose??? :-)))

am 03 Jun 2009 um 16:52

2

Nils

WHAT A PICTURE! 🙂

hallo sweeties.

es sieht so aus, als wäre bei euch alles wunderbärchen. das freut mich sehr!!!

pfingsten werdet ihr wohl nicht gefeiert haben, wir selber waren üblicherweise zelten, bei absolut grandiosestem wetter!

neben den vielen hochzeitsplanungen für die ganzen heiratswütigen lassen wir es uns auf dem tennis-court gutgehen (Agi und Josi sind nun auch angefixt) und haben die ganzen feiertage nun leider hinter uns gelassen….

ich sende euch viele küsse aus der schönsten aller städte,
nils

am 16 Jun 2009 um 03:19

3

Thommy and Whitney

watch out, we will practise tennis here in china and kick your a… when we are back. with chopsticks! greetings from kunmings mc donalds…great breakfast and free internet with old ladies performing thaichi outside of the building.
Kommentar hinterlassen