Maybe we haven´t searched high & low, but postcards in Yunnan Province (China) are hard to come by. Sooooo….the alternative is to make one. Here it is….the European version of a Chinese ROBOCOP!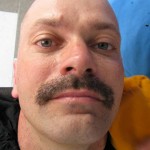 All it takes is a new sharp blade with the touch of a creative master (yikes!) (I feared more for Thommy from the looks of those scratchy, devilish nails than from the blade), BRAVERY, 4 € and 15 mins of your day. Here he is folks….the new and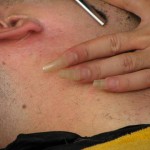 improved Mr. Becker. I love the new look and I´m certain he does as well, especially in this heat and humidity. If only we were men—right ladies ….shirts off & shaved heads!! On a last little buzz…translating german to english often gives a creative picture for me…OBERLIPPE: sounds like ÜBERLIPPE which is something OVER-the-lip***?? Somehow it is ÜBERpractical ! So style your ´stache if you have one, and keep your oberlippen clean!!
5 Reaktionen zu "~OberLIPPENbart~"
Kommentar hinterlassen