From gorillas, dogs and penquins, they train them all in Hollywood.  I was first impressed with the amazing german shepard in "The Littlest Hobo", but with the bewildering Mahoot and elephant relationship that we saw in Nepal, the Hollywood MUT came crashing down.  But ladies and gents-a new mind dazzling discovery: CORMORANT FISHING!!  Here in China´s Yunnan Province (in China´s southwest) I´ve learned a new meaning of the MASTER-SERVANT relationship.  Small penquin-like birds/ducks which obey commands from their MOTHER GOOSE.  Mother goose being 2 BAI men (inhabitants of this region by LAKE ERHAI) with bamboo paddles and their fishing boats. We arrived at the lake and at first I thought this was a critical issue for PETA to investigate-20-30 birds were tied by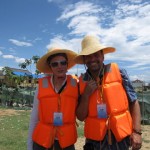 the neck and perched on a fence.  Upon our arrival, the fishing company tried to throw us into JOLLY, HAPPY TOURIST mode with over-sized, sinking-stones for lifejackets, our official CORMORANT neck passes, and  rice PADDY hats to top us off.  As we were playing dress-up, the captains moved 10 birds to the boat and there they perched on the boats edge.  Sitting next to several medium-sized, beaty-eyed birds is second best to travellers diahorrhea,–but the creepy part was that within a ½ second the long pointed and curved beak had the weaponry to be more damaging to my face than a kitchen blender.
We got out on the lake and soon these little swimmers were gagged and choked out of their tight neck leashes and released into the water.  "RUN; RUN…SWIM; SWIM far away for freedom….save
yourselves!!"  hmmm…they didn´t.  Amazingly, they swam near the boat and with stange bird-like calling sounds from Mother Goose, they swam and dove in sync in search of fish.  GEEZ…ducks fishing for humans!!  Wella Wella…a marvellous scam the ducks don´t understand.  They have a clear string tied fairly tightly around their long necks to prevent any large fish from sliding down to their bellies.  Instead, the fish (and rather huge they can be) get caught in the esophogus of the duck.  Of course Mother Goose sees all, so with a bulging neck, the bird is called back to the boat with hand motions and splashing.  The captain picks him/her up by the long beak and with a sqeezing motion at the base of the neck, squeezes up to the beak and PLOP!! -out comes a HAIRball!!  GEEZ…there it was~A FISH!!…and it´s still alive.  It made me gag and get jaw-lock all-in-one.
A few of the smaller fish are squeezed thru to the belly—a tiny treat to keep the village scam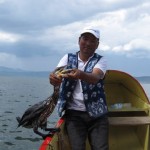 concealed.  The ducks are then thrown back into the water to continue their  hunt with their buddies.  It´s truly like a little duck military being commanded by these men who are purring and guttorially grunting while they stomp and rhythmically bang on the boat.  When our boat turned, they followed.  They even followed close enough to get banged on the head once and awhile by the paddle.
The rain clouds were not far off and that usually means that the fish will start biting-in our case, the DUCKS started biting!!Our luck picked up and our ducks were slugging huge PERCH.  Infact, it was amaying how these large fish fit into these birds oral cavities and necks????…and then OUT again without choking??? After 1hr 30 mins of fishing without rods and hooks, we had a large basket of fish.  The overworked & underpaid ducks escorted us back to the shore to once again be tied up and to wait for their future adventures of fishing and reproducing.
Up until the end, we were virtually alone on this part of the lake.  Then out came another boat with chinese tourists:  We were enjoying this bizarre fishing event-AND there it WAS!!-even more bizarre than these blind-folded ducks.  OH YES-"DUCK, DUCK…away from the sun!…it´s dangerous…pay lots of money for the tour, but don´t see it!"  FunnY funnY chinese girls & DUCKS!…quack, quack!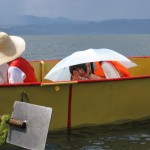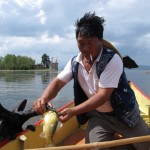 Kommentar hinterlassen