Sabaai-dii from Laos!
Our decision, to make a short tour through Laos on the way to Thailand was perfect. Unfortunately the trip from Jinghong (China) to Luang Nam Tha (Lao) was not the expected easy direct bus connection, but instead an 11 hour journey with 2 buses, one minibus, one bike taxi, a 10 seater taxi and a 4 hour wait at the Laos border, because the busdriver was carrying not only passengers, but a great amount of TVs and other goodies from China. We saw him secretly trying to give money to the customs officer during the officers inspection of the bus. What a great picture, unfortunately I couldn´t take a picture.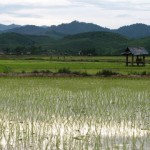 But obviously he didn´t give enough and we ended up waiting 4 hours in 30 or more degree heat.
But all of this paid off for our experience in Laos. First thing we recognized was the friendly and welcoming smile we got from the Laos people. Then we realized, that there was something missing, that was around us the last weeks. Something we never got used to…: There was no spitting and no disgusting and enormous roaring of either man or women shortly before their spitting (as Whitney calls it: The build up for horking a luggie). What a delightful change that we totally enjoyed!
We arrived at our destination, the city of Luang Nam Tha in the early afternoon. Early enough to have a stroll through town and we got a motorbike for two hours and explored the village and its surroundings.
Luang Nam Tha is in the the Nam Ha National Protected Area, which was the first eco park in Laos set up by the government to protect its wildlife and forests from slash-and-burn farming, hunting and logging. This benefits both travellers and ethnic people. In the forested mountains of this high altitude region (Huan Pha Region) live 22 different ethnic groups.
Next day we left with an organized tour for a hike through the jungle and visited two mountain villages. Great group with nice people, three girls from Calgary, who made Whitney feel like home (-;

After an hours drive we arrived in an Akkha Village and started our hike though the jungle. Steep climb down surrounded by trees, bushes and more trees. Shortly after, it started to rain and our pass turned into a slippery ice rink. Between funny and scary all of us ended here and there on our butt. Then these
little creatures noticed us and started "attacking": LEECHES! Our guides told us, they are not harming, but they were also disgusted finding them between their toes or on their legs. Boots or no boots, these little worm like animals found their way out of the bushes to our legs ( – we thought they are only in water, NO, they are not) and immediately started sucking blood. Very disgusting and not easy to get off! Our half day hike turned into a leech-hike, every minute somebody else was screaming, Whit had her pants down every now and then, after she had found a big sucker enjoying her blood from her inner upper leg.
After three hours we were back in the leech-free Akkha village of 300 people. We learned some interesting things about their origin and their present life, had a tea and self made whiskey with the (elected!) chief and wandered around a bit, followed by lots of little kids. One of the family man came home from his hunt and proudly presented his catch of the day: A rat! Enjoy your dinner!

We took great pictures before we headed back, stopping at a bigger village of Black Thai people.
Back in town we searched every corner of our body for more leeches (on girl found one in her hair, when she was taking a shower), then we met with the others at the great night market for some beers and yummy food.
Great day in Laos, sabaai dii.
Our next goal: Northern Thailand and the golden triangle.
2 Reaktionen zu "Laos – Visiting the Nam Ha National Protected Area"
hey travelers! very funny to read your stories. especially in german which i haven't used since i was 10! no seriously, i hope you are enjoying south-east Asia, Lao is our favorite! We return back to civilization in Cairns after 14 days in Australian desert. Even if our writing on our blog are in french and czech, you can still see some photos of you ;0)
Enjoy!

Market & Francky

am 22 Jul 2009 um 07:47

2

Lisa

Whitney! Thommy! This blog is awesome! Great stories, cool pics. I like it. I think i'll steal your idea for my next trip. Hope you're enjoying Thailand! I'm actually getting more sun here in Calgary than back in Asia. almost 30 degrees everyday.. woo hoo. But from your updated status I see that the sun is shining for you two – how great. I'm sure you need a couple days doing absolutely nothing but chilling on the beach. Enjoy it!
Take care, and I look forward to more stories!
xoxo,
Lisa
Kommentar hinterlassen