How much a beach, sun and christal clear water can change. With the first dip into the ocean we realized, that now a very relaxed part of our trip is starting (-;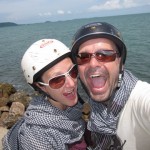 Kampot, our first stop in cambodias south, is a small fishing village at a river very close to the Gulf of Thailand. Very relaxed, smiling people and great seafood. We went on a scooter to the 1 hour distant village of Kep, which used to be a big tourist resort before the Khmer Rouge time and seems now a rather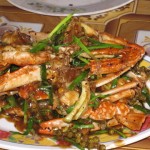 laid back village. This region and especially Kep is famous for it´s great crab dishes with kampot pepper. Yummiiiiieee! We had a kilo of fried crab with some squid right from the ocean.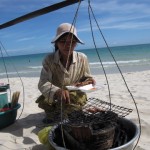 A two our busride away we got to Sihanoukville, the most famous beach and fun destination in Cambodia these days. From breakfast until the sundowner cocktail and dinner, we did not need to move a lot…all the action took place right at the beach in front of our guesthouse. What a relaxed day!
Next morning we took a 2 hour boatride to the so called resort Lazy Beach on Koh Rong Saloem (Koh Rong Samlem). Lazy Beach, a peacefull place with 10 small individuell beach huts overlooking the ocean … the name describes how (not) much is happening here. Lying in the hammok, Whitney proudly finished her eighth (!) book on
our trip. Inbetween we jumped into the ocean, did some running and sit ups, played some Scrabble (I lost) and ate very good khmer food.
Then the water came: From above! We got hit by really bad wheather, which made sleeping at night very hard and limited the day time activities. And when we encountered, that a litte island rat ate not only my plastic soap holder but as well half of Whitneys pills (there won´t be any new born rats on this island), we decided, that it´s time to move on.
Our trip back to Sihanoukville was a little nightmare, it took us more than double the time that it took us to get there and we were facing 10 feet waves, which were bigger than us.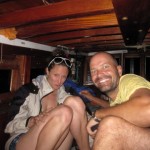 Due to an engine failure with the resorts original boat, the owners hired this small fishing boat to get us back. Leaving 6 hours late and shortly before dawn, we were the only guests, squeezed together with the 4 member crew in the small cabin. Outside pouring rain, thunder and darkness…we were very happy when the crew mastered the tricky docking in the harbour (which took more than an hour!) and we safely touched ground late at night.
We left Cambodia the next morning to Thailand. The bad weather stayed with us. The day long trip from Sihanoukville (Cambodia) to Ko Chang (Thailand) included something like 8 different vehicles and some scary moments. Shortly in front of the border during a lunch break our bus decided to take off with all our luggage. A different bus showed up and they told us, our luggage awaited us at the border. This is the kind of story that you love as a traveler, especially in these countries. Arriving at the border the luggage was not there and we were told, it was already on the other side, in Thailand. We and other people from the bus got upset and after some unfriendly conversations made them return all our luggage to where we were waiting. We checked our bags and happily nothing was missing nor added to our packs.
Same same but different on Thailands far north western island Ko Chang. We were enjoying the island and it´s beaches even though it was mostly raining. It was still nicely warm and due to the off season we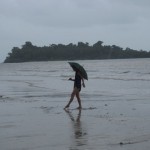 got a great little hut right next to the pool in a nice beach front family resorts without reservation and low season price. And the Green and Panaeng Curry were great!
After three island days we needed to get back to Bangkok for…yes, Whitneys new passport…and, no, it was not there. I used to think, the canadians are not as beaurocratic as the germans…but I guess I have to overthink that. We left the office without a new passport, Whitney had to leave her old one there. Hopefully the new one will be arriving in Thailand (it was not even printed in Canada when at this time) soon and then will be send to us somewhere in South Thailand before our 15 day Thailand Visa runs out. Pretty complicated the visa business these days (-;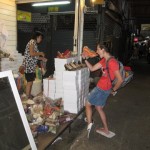 Having a very nice guesthouse in Bangkok makes life here easier and enjoyable. We spend some time for sightseeing and even more time for eating yummie food and drinking good drinks while watching the mingling of local guys, girls, ladyboys and seeking tourists. The busy streets have a lot to offer. And yesterday Whitney treated herself with a daylong shopping marathon at the Chatuchak Weekend Market…one of Asia largest open air markets of more than 15.000 little stalls. What a treat!
Tonight we are heading south by nighttrain, expecting new rain…
1 Reaktion zu "Sun, beach and lots of water…"
am 27 Jul 2009 um 11:46

1

jannina

Wow, da bekomm ich gleich lauter Flashbacks…so schön. Angkor ist der Hammer oder? Leider war da meine Kamera kaputt 🙁 Aber alles im Gehirn abgespeichert 😉
Viel Spass weiterhin!!
Kommentar hinterlassen