What a change and what a great start into Malaysia! By Minibus, we went from Thailands Hat Yai early in the morning to Georgetown in Malaysias north western island of Penang. We entered a different world. On our city walk we went through areas thinking that we were in India, then areas where we felt we were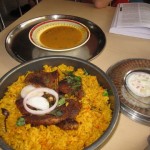 in China. We asked ourselves whether they were Malaysians or not. Yes, they were! The variety of people (and difference to Thailand) is amazing and they are all super friendly, smiley and helpful. And with it comes a great variety in buildings, smells, sounds and food…we tasted great curries, tandoori chicken and the best Biryani rice with mutton ever. We loved it!
The next day we did another of our favourite scooter tours and cruised around the island. Well, soon we realized, that Penang is not really made for that. The beaches in the north (especially the resorts, restaurants etc.) were not appealing to us and cruising with 60 to 70 km/h along a speed road is not really the chilled island cruise that we imagined. But we saw what we wanted to see and left the next day to a new BIG (!!!) highlight of our tour: We crossed the country to its north eastern Perhentian Islands. An incredible destination!
Staying on the smaller one of the two Perhentian Islands, we needed awhile to find accomodation. There are many, but pre-reservation is mostly not possible and lots of travellers come here seeking for a place to stay. If you are unlucky, you have to sleep a night or more on the beach…lots of backpackers need to
do this. Long beach was full (or too expensive) so while Whitney was waiting and watching our stuff, I went on a short 15 minute hike thru the jungle to the other side of the island to Coral Bay and check out their accomodations. Arriving there I shortly forgot about my girlfriend waiting for me…I was flashed back to ´93, when I arrived on a small fishing boat with my friends Dennel and Franco on exactly this beach. Pictures came back to my mind…that time there had been only five small huts along the beachfront and one little restaurant. 5 Dollars we had paid back then per person per day for accomodation and food.  We had eaten what the owner served and that had been what we caught that day in the ocean or got from the jungle. That time it had been only us three and a girl in her black bikini staying here. Great memories! I told the people I had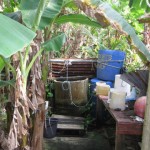 asked for accomodation, that I was here 16 years ago, they were smiling, some knew how it had been at that time.  I told them that there had been a hole in the ground where we got the water from to shower. Saying that the guys started talking, then one guy smiled and took me to a place behind his little restaurant. There it was…overgrown from the ,  I stood in our shower from 93! Cool!! Well, well, sure, everything on the island has changed alot with tourism taking over. Huts, restaurants, diveshops, shops etc, not comparable with the Crusoe feeling of that time. But anyway, this is still a very, very cool place to go to and hide for a while!
And… upps, suddenly I remembered, that Whit was still waiting for me on the other side of the island. Quickly, I found a hut right next to the beach and went back to get her (-;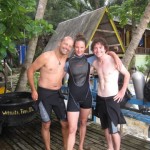 We had four great days on the island with perfect weather and crystal clear water. With my irish dive buddy Stevie, whom we met on the bus and boat trip to the island, I had two great wreck dives and three fantastic coral dives. Beautiful, colourful hard and soft corals and lots of marine life like sharks, different kinds of rays, turtles, morray eels and thousands of fish surrounding us made us feel like diving in an aquarium. The divemaster led us through some very narrow swim throughs and we realized, that holding your buoyancy was not always easy and some holes were smaller than they appeared. We had three
dives together with Whitney – we went into the inside of a wreck and in there up to an air bubble where we could take our mouthpiece out, breath and have a little chat…20 meters under the surface. Whitney successfully took an Advanced Open Water course on the island, so from now on, the bottom of the sea is our limit (-;
Chatting about our journeys, we learned, that Stevie as well had done some trekking in Nepal, about 2 weeks after us. And not only this, he had trekked and travelled together with Phil, the english guy with whom we had done the first half of our Annapurna trek. They´d met a week later and had travelled and trekked for the following weeks. What a small planet and an exciting travellers world!
Sitting in one of the nice beach restaurants having a fish BBQ for dinner, I had another nice flashback. On the mainland in the distance, we could see thunder and lightening (- reading this, Dennel and Franco are probably already grinning). In ´93 this was our scenery every night and at that time we had always raised our Mekong-Coke glasses saying. "Cheers to Wenki" (the friend who had decided to leave us and go on his own way with his girlfriend and stay on the constantly rainy mainland-the reason for their departure could have been Franco´s offer to Wenki´s girlfriend to show her his GECKO, while she was admiring a small gecko running up a tree ). Having Whitney sitting beside me I once more raised my beer can and cheered to my friend Wenki (-;
From the island we made our way up to the Cameron Highlands, a green hill region in central Malaysia, famous for its tea plantation and in the old time used by the english as a summer hideaway. Now we are sitting in the bus to Kuala Lumpur, where we will stay for a couple of days before we travel to Borneo…something, that we are really looking forward to!
Cheers (-;
1 Reaktion zu "Curries in Penang, Diving in Perhentian, Tea in the Highlands"
am 17 Aug 2009 um 11:09

1

Turið Maria

AH, sounds grrreat! Lovely to read about your trip!:)
Kommentar hinterlassen