After enjoying Java and especially its great volcano Bromo for our Indonesian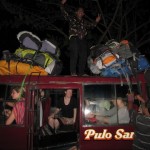 appetizer, we decided to leave this island right after we had returned from our Bromo hike. All the direct transportation to Bali had left already so we needed to find our own way…that made it a little more adventurous. Changing transportation four times, we arrived on Bali by ferry in the early evening. Too late for ongoing public transport. After some talking and some scary moments we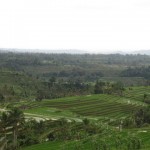 managed to get into a minivan with 18 other travellers that took us on an uncomfortable two hour ride to our final destinantion Lovina.
We loved Bali from the day we arrived. Lovina is a laid back place in the north of Bali. Black volcanic beaches and in the back green hills that lead to some beautiful lakes and volcanoes. Thats what we enjoyed…w
e got a scooter and cruised for two days around the hills and oceanfront of north and central Bali, visiting hot springs (Air Panas Banjar), the famous and great rice fields of Jatiluwih, a nice Hindu temple in the forest (Pura Luhur Batukau) and a market near the volcanic lake Danau Bratan,
where we bought fruits that we have never seen before and (of course) earrings (-;
Our highlight was another day under water: In Balis north east you find the world famous dive site of Pulau Menjangan, an island surrounded by great corals, great fish and perfect visability.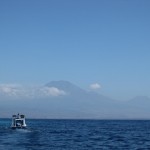 We had to do it and the day out there was just great! Diving under the eyes of the volcano!
Hamburg meeting Hamburg in Padangbai! Elli and Matthi, two friends from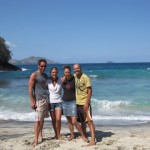 home where in Indonesia and luckily we managed to get to Padangbai in Balis east and meet them before they flew back. We had a nice afternoon with them at the beach and a great seafood and beer dinner with lots of happy chatting.
With the morning ferry we got from Padangbai to Lombok,
not yet as developed for tourists as Bali but likely to get there sooner or later. We wanted to see Kuta Lombok in the very south.. It is famous for its world class surfing and has beautiful sandy coves and a spectacular coastline. Kuta Lombok is not really interesting (in fact, there is actually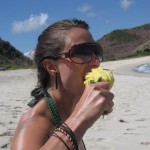 nothing in Kuta except a couple of hostels, homestays and resturants) but the surrounding coastline is fantastic. Once again we cruised on a scooter and found a great sandy cove beach with perfect water to swim.
A Dubai company will soon begin a major development (hotels, Golfcourses etc.) of a huge piece of land along the coastline. The international airport will be finished soon and it is just a question of time, till this whole region will change massively. It´s good to have seen it now.
Bali is more than 90% Hindu, while Lombok is more than 90% Muslim. We arrived just a couple of days after the beginning of the Muslim Ramadan, where the Muslims are fasting and not eating during the day which might be a reason for some to be a little grumpy and not the nicest to tourist. The difference between the smiles, friendly "hellos" and waves from the people we got in some less touristy places in Bali to what we experienced in Lombok are huge. We did not feel as welcomed in Lombok and worse than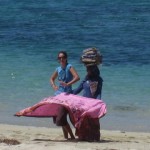 that, we did not feel that we could trust the people as much. We felt uncomfortable sometimes and the worst moments we had were when we decided to go to the incredible Gilli Islands and needed to be at the harbour Bangsal, waiting for a boat to get us to the islands. We have rarely had people being as rude to us then there, without knowing how far they would go. We were happy, when we were on the boat to the Gillis…a little paradise right in front of Lombok but in a lot of ways for us so very different.
We decided to stay on Gili Trawangan, the most developed of the three Gilis. A good decision, because the low season had just begun, so it was not too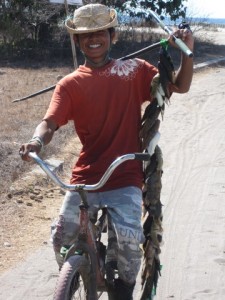 crowded and the prices started to drop. We had 3 beautiful days here, did two very "private" dives with a newly opened dive shop, spent a day exploring and enjoying the beautiful beaches of the very relaxing and quiet Gili Meno and had very yummiy seafood almost every night. That is luxury vacation (-;
Kommentar hinterlassen