"Sweet as, enjoy your trampin´!" The Kiwis have their own language and it makes travelling here a bit more unique. "Sweet as" could mean as much as hey, well, cool, great or yes. Or just all of these or nothing. "Tramping" is Kiwi-speak for hiking, trekking or bushwalking. Sweet as!
On our arrival day in Auckland I took Whitney out to a korean restaurant that I found with Stefan 3 years ago – my first korean experience. Since then I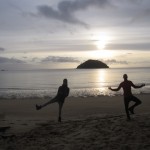 tried twice (rather unsuccessfully) to prove to Whitney that korean food is good. We needed to come all this way back for her to finally agree.
The next morning we flew to Queenstown in the very south from where we started our tour across New Zealands South Island. We had both been in NZ before and therefore decided to do and see some things, that we haven´t done or seen before. And of course tramping is very high on the list of "must does" in NZ.
We left beautiful Queenstown this time without any bungy or other adrenalin pumpin activities, but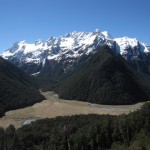 with our rental car stocked up with plenty of yummy food for our nights at different camping areas. We headed to the famous Routeburn Track, according to the DOC (Department of Conservation) one of the 14 so-called Great Walks of NZ. We intended to do the full 3 days, 2 nights hike, but the DOC adviced us due to the high avalandge risk to do only about half of the track on a one day return hike. Thats what we did and we absolutely enjoyed it! The landscape and the scenery was great and besides that we felt good getting a little bit of a workout for our recently lazy bodies (-;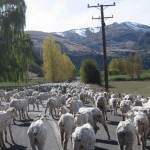 On the inland route we made our way to Christchurch, stopping at beautiful places, doing some very nice hikes (especially W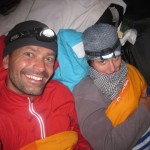 anaka we really liked it) and camped all the way through. Unfortunately it was a bit too cold (or our sleeping bags too thin) but we learned better and better to figureout, how many layers of clothes we would need to get us warm through the night. It did not help our camping mood, when the owner of one campground called us "brave" and mentioned they had 10 inches of snow one week ago. Sweet as, I must have made a little mistake with our route planning (-;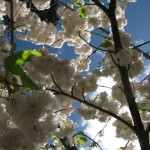 In Christchurch we took a camping break and got a nice hostel. Of course it got very warm that day. Has anybody ever been to Christchurchs botanical garden during it´s blooming time? It is absolutely fantastic, we were both totally excited by the colours, the flowers and trees. (I think it makes Whitney happy that I write this.).
Another 3 days with a rental car took us from Christchurch via Hanmer Springs, Kaikoura and Picton to Nelson. We needed to hea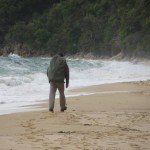 t up a little and the hotsprings in Hanmer Springs were exactly the right thing. Traditional fish and chips in Kaikoura, great bar food, beers and live music in Picton and lots of driving along scenic routes were highlights of 3 relaxing days on the roads toNelson. In Nelson (Thanx Stefan, Nelson is a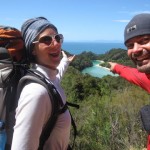 great place! This must be like Freiburg, Whitney believes.) we got prepared for our South Islands highlight: The Abel Tasman Coastal Track – One of the countries most beautiful. 3 days, 2 nights and a 51 km track along the coastline, through native bush overlooking golden beaches. Sweet as! The weather got better day by day as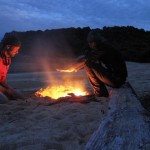 we tramped along this scenic track. It is the begining of the track season so we did not see lots of other hikers and the second night we had a small campground plus the 200 meter dream bay and beach that was right in front of our eyes. Sure this was more than inviting for a late afternoon and another early morning skippy dive into the cold waves. Tomatoe soup, tea and a small fire at the beach heated us up afterward. That felt Crusoe style!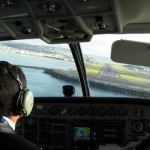 Back in Nelson we cleaned and dried our stuff, enjoyed the best and biggest selfmade breakfast ever, went out for some beers with fish and chips and caught neaxt day an early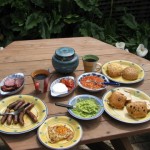 morning flight in a small 12 seater prop plane to Wellington on the North Island. A nice and fun ending for our journey through New Zealands South Island. Sweet as!
Kommentar hinterlassen