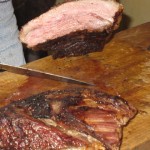 We crossed the border from Valparaiso (Chile) to Mendoza (Argentina) and some things got even better: The steaks here are just fantastic. (Sorry, amigos in Chile, your steaks are very good as well, but Argentina plays in a different league…).
The drive to Mendoza across the Andes is just like being on an organized tour through incredible landscape, although we were on the local bus. The road coming from Valparaiso winds its way high up through the border at the top of the Andes. We saw Condors soaring through the valleys, had a nice view of the Aconagua, the highest mountain in the whole Americas and enjoyed the daylong busride. (Whit slept (-;)
Mendoza stands mostly for one thing: WINE. Very good wine. 70% of the country´s wine is produced in this region and they know what they do. We wanted to know more and made our way to Maipu, a place packed with wineries, olive oil farms and bistros etc. A day on the bike, driving from one winery to the next, having a little tour and some tasting at each of them. What a great day: We learnt lots about great Argentinien wine and we were drunk at the end (-;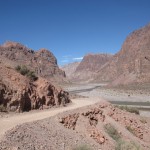 After a stop-over day in San Juan, we got of the beaten track to Barreal in the Valle de Callingasta. It is a little village at 1650 m. It is a 4 hour bus drive from San Juan on a dead end road into the Andes and toward the Chilean border. On a day tour from here we got on a mostly unpaved road to Los Hornillas, this is the absolute end of t
he road. Together with a nice French couple, we had a great 3 hr hike with wonderful views before we returned to the small ranch  where our driver and "tourguide" had already prepared a great bbq. He said he was the master of Parilla (= Grill) and I think he was  right. Very yummy. I wrote down his secrets and recipies (that reminds me of a specific italian friend in Hamburg right now (-;)
Our bus left at 3 am (WHY?) and we had a 10 hr ride from the mounta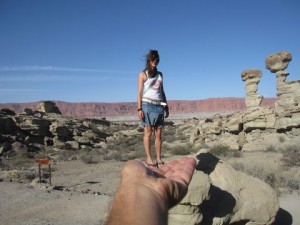 ins into the desert to San Augustin. A dry and hot place where really nothing happens (walking through the village in the afternoon you really see nobody on the streets!). But it is the gateway to the two National Parks of Ischigualaso (Valle de la Luna) and Talampaya. We joined a tour to those two parks for the next day. We prefered the Parque Talampaya, absolutely stunning and extraordinary desert scenery!
We needed a day of coffee drinking, mailing, blogging and relaxing in La Rioja (more then 40 degrees during the day, it is spring here!), where we unsuccessfully tried to get a dinner at 7 pm (the restaurants open at 8 or 9 pm, before that, everybody is still having Siesta). We took a night bus to Salta in Argentinas north, where we will spend the next days. It is a great place for day tours into the very scenic surrounding areas and, YES, a great place for Vino and Parilla!
Salut!
1 Reaktion zu "YES! Parilla, Vino e Montanas en Argentina!"
am 28 Nov 2009 um 21:46

1

moins52

The "nice French couple" is back at home. We appreciated a lot the walk together. We'll send you soon some photos and hope we'll keep in touch.

As latin american people says "Que le vaya bien !"
Kommentar hinterlassen