They call their Buenos Aires nicely Baires. And indeed, it is a great city that every guidebook and every traveler talkes about. We planned to stay three days but due to some problems with Whitneys Brazil Visa we needed to stay eight and did not regret a single day.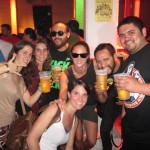 Chilu, an argentinian girl we met 7 month ago in Tibet was the best city guide for Baires that we could have wished for. She showed us around during the day, took us out for lunch and dinner with her family and friends and got us on the guest list of a
great party. We had a full days pampering –  thanks again, Chilu, for your time and patience, we really got to know and like your city a lot! One of our highlights was the Sunday BBQ at her families house, where we sat together with her mom, her sisters and boyfriend over a huge amount of steaks, wine and beer, chatting the afternoon away before we all made a short excursion to beautiful Tigre. That felt like a day home with the family.
During our time in Baires we decided to make a short trip to Uruguay. An hour on the ferry gets you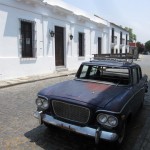 from Buenos Aires to Colonia del Sacramento, a very beautiful colonial city where we spend an afternoon strolling though the old cobble stone streets. Our next uruguayan stop was Montevideo, just a 2 hrs busride away. We had only one full day there and tried to get a lot out of it. We walked for hours through the historical centre, enjoyed great food (meat, what else!) and Whit successfully made her most important purchase of the year (guess what?). We were happy and thought that we would like to stay another day. Whitney named this city MTVideo, so that it sounds qute (like Baires). And i think it makes it makes it easier to say that name. – You see, Whit is still working hard on her spanish. But northamericans are having there dificulties with the pronounciations. I like it and especially to bug her about it (-;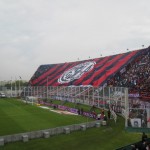 Back in Baires another highlight was the visit to a soccer game. A must do if you happen to be here on a day when one of the big teams is playing. I was lucky and while Whitney enjoyed her time on the famous Sunday market without me, I had a great time at the 3:0 loss of Maradonnas ex club Bocca Juniors against San Lorenzo. The atmosphere from cheering, shouting, singing and passion is incredible!
After 8 days we left Baires, knowing, that we will come back one day! A short 20 hrs busride would bring us to Bariloche, the start of our Patagonia experience for the next 5 weeks.
1 Reaktion zu "Baires and MTVideo"
am 08 Dez 2009 um 18:57

1

Batmendt

Hola Whit, hola Beckerle !

Wow! I was just 5 weeks off as we were busy with some health problems in the family and meanwhile so many things happened which I will have to read tonight.
My dear friends, you almost killed me today! I am presently recovering from a double pneumonia
and when I started to read your articles today, I lost my breath completely again and saved my life
with oxygen. YOU ARE ENGAGED! That's what we were waiting for so much and I missed this for almost a month………. Congratulations also from the Fab Five Mendts and all the best for you !
I am very sorry that I am so late, but we really had some busy time and I was lying in this f…
hospital. Now everything is back to normal, in time for x-mas.
Even if I am presently not allowed to drink any alcohol, tonight we will have some drinks celebrating the big, fantastic good news!! What a surprise that Dennel and Thommy are marrying
in the same year, same month……..;-) Guys, I am still in the lead with 10 years and 3 sweet monsters. Try to catch me!
Whit, I am really really glad that he asked YOU!

Please enjoy Argentina and the rest of your amazing trip.

All the best for you both!

Batmendt
Kommentar hinterlassen