Those have been relaxing days! After the trek we just haven´t done a lot. Three days in Pokhara went by very fast.
This little city has an incredible setting. The tourist area (Lakeside) is right at the edge of the Phewa Tal Lake. And right behind the Pokhara hills you are the big white mountains constantly watching you…in it´s middle the impressive Mt. Machhapuchhare (especially famous cause it`s  pyramid style form looks like a fishtail).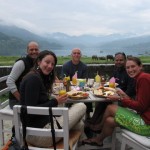 After nice breakfasts we spent our time rowing on the lake, watching people, checking soccer results in the internet (Thommy), reading (Whitney), reading even more (Whitney) or taking a bicycle to the old town and learnin about the Gurkhas in the Gurkha Museum. Everything just in time to be back for the happy hour at the Love Shack and some great tibetan, nepali, italien etc. food.
The 7 hour bus ride back to Kathmandu went along a couple of great deep river valleys. Very impressive.
Being back in Kathmandu and its tourist hub Thamel was a little shock after the peacefull Annapurna circuit. Well, but despite the smell, the dirt, the beggers, the touts, the drug or fake tigerbalm sellers and the sometimes annoying rikshaw drivers we start to like Kathmandu. It has been raining since two days, but with our newly purchased umbrella and our rainjackets, we have managed a great mixture of sightseeing, people watching, chatting and planning.  And always made it to the happy hour! (-;
Planning? Yes, we arranged yesterday, what we will do next. We will leave tomorrow for a three day tour  to the nature reserve Royal Chitwan National Park to track tigers and rhinos on elephant backs.  And on the 2nd of June we will continue our journey…leaving Nepal for Tibet.
We are excited!
Hugs, T and W
P.S. We managed to find  a way to get some pictures online (thanks, Josi,  for the final "kick") . You find them under the Page "Pictures" (see top). More pictures and changes on the website to come (-;
Kommentar hinterlassen