What a change and what a great start into Malaysia! By Minibus, we went from Thailands Hat Yai early in the morning to Georgetown in Malaysias north western island of Penang. We entered a different world. On our city walk we went through areas thinking that we were in India, then areas where we felt we were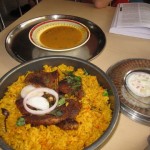 in China. We asked ourselves whether they were Malaysians or not. Yes, they were! The variety of people (and difference to Thailand) is amazing and they are all super friendly, smiley and helpful. And with it comes a great variety in buildings, smells, sounds and food…we tasted great curries, tandoori chicken and the best Biryani rice with mutton ever. We loved it!
The next day we did another of our favourite scooter tours and cruised around the island. Well, soon we realized, that Penang is not really made for that. The beaches in the north (especially the resorts, restaurants etc.) were not appealing to us and cruising with 60 to 70 km/h along a speed road is not really the chilled island cruise that we imagined. But we saw what we wanted to see and left the next day to a new BIG (!!!) highlight of our tour: We crossed the country to its north eastern Perhentian Islands. An incredible destination!
Staying on the smaller one of the two Perhentian Islands, we needed awhile to find accomodation. There are many, but pre-reservation is mostly not possible and lots of travellers come here seeking for a place to stay. If you are unlucky, you have to sleep a night or more on the beach…lots of backpackers need to
do this. Long beach was full (or too expensive) so while Whitney was waiting and watching our stuff, I went on a short 15 minute hike thru the jungle to the other side of the island to Coral Bay and check out their accomodations. Arriving there I shortly forgot about my girlfriend waiting for me…I was flashed back to ´93, when I arrived on a small fishing boat with my friends Dennel and Franco on exactly this beach. Pictures came back to my mind…that time there had been only five small huts along the beachfront and one little restaurant. 5 Dollars we had paid back then per person per day for accomodation and food.  We had eaten what the owner served and that had been what we caught that Weiterlesen »